The site contains all peer-reviewed Journals published by Universitas Sebelas Maret.
A B C D E F G H I J K L M N O P Q R S T U V W X Y Z All
Jurnal Pendidikan Dasar
Jurnal Pendidikan Dasar memiliki cakupan yang membahas tentang kajian Model Pembelajaran, Media Pembelajaran, Bahan Ajar, Manajemen Sekolah, dan hal yang bersentuhan dengan ake SD an. Artikel yang dapat dikirim ke jurnal pendidikan dasar dapat berupa hasil penelitian dan artikel gagasan ilmiah
View Journal | Current Issue | Register
Didaktika Dwija Indria
Jurnal ini membahas tentang hal-hal yang terkait dengan bidang Ke SD an. Beberapa hal yang menjadi bahan kajian dalam jurnal ini yakni metode pembelajaran, model pembelajaran, Teknologi pembelajaran, media pembelajaran, majanemen sekolah, bahan ajar sekolah dasar.
View Journal | Current Issue | Register
AGRITEXTS: Journal of Agricultural Extension
AGRITEXTS: Journal of Agricultural Extension merupakan jurnal media publikasi hasil penelitian dan pemikiran bidang penyuluhan dan komunikasi pertanian/pemberdayaan masyarakat maupun pembangunan pedesaan dalam arti luas.
AGRITEXTS: Journal of Agricultural Extension telah berkolaborasi dengan Asosiasi Prodi Penyuluhan, Komunikasi Pembangunan, dan Pemberdayaan Masyarakat Indonesia (APP-KPPMI).
View Journal | Current Issue | Register
BESTUUR
BESTUUR  is a peer-reviewed journal published by Faculty of Law Universitas Sebelas Maret Surakarta. It published twice times a year (August and December). BESTUUR aims to provide a forum for lecturers and researchers to publish the original articles about Law Science and Administrative Law. The focus of BESTUUR is publishing the manuscript of outcome study, and conceptual ideas which specific in the sector of Administrative Law.  The scope of BESTUUR interested in topics which relate generally to Administrative Law issues in Indonesia and around the world. Articles submitted might cover topical issues in:
Administrative Law
Tax Law
Consumer Protection Law
Enviromental Law
Medical Law
Spatial Law
Labor Law
Agrarian Law
Mining Law
Energy Law
View Journal | Current Issue | Register
Journal of Mathematics and Mathematics Education
---
---
Journal on Mathematics and Mathematics Education (JMME) is an open access and peer-reviewed journal. It is published twice in a year (June and December).The JMME aims to provide an international forum for researchers, scholars, teachers, and professionals to share their ideas on all topics related to mathematics for teaching in all levels of education and mathematics education. The JMME is devoted to the dissemination, criticism, interpretation, and encouragement of all forms of systematic inquiry into fields related to or associated with mathematics and mathematics education.
---
View Journal | Current Issue | Register
Kumara Cendekia
View Journal | Current Issue | Register
Jurnal Pembelajaran Matematika
View Journal | Current Issue | Register
NEXUS
View Journal | Current Issue | Register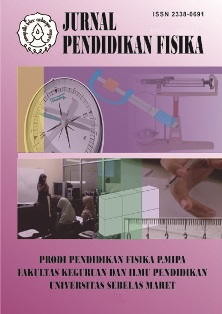 Jurnal Pendidikan Fisika (Online)
Jurnal Pendidikan Fisika (ISSN 2338-0691) merupakan jurnal yang dikelola dan diterbitkan secara online oleh Program Studi Pendidikan Fisika, Jurusan PMIPA, Fakultas Keguruan dan Ilmu Pendidikan, Universitas Sebelas Maret Surakarta. Jurnal ini terbit 3 kali dalam satu tahun. Jurnal ini berisi artikel - artikel ilmiah dari hasil penelitian mahasiswa Pendidikan Fisika.
Silahkan daftarkan diri
Silahkan daftarkan dirimu disini dan unggah jurnalmu disini
Template Jurnal Pendidikan Fisika (Online) dapat diunduh disini
View Journal | Current Issue | Register
Jurnal Materi dan Pembelajaran Fisika
View Journal | Current Issue | Register
41 - 50 of 111 Items