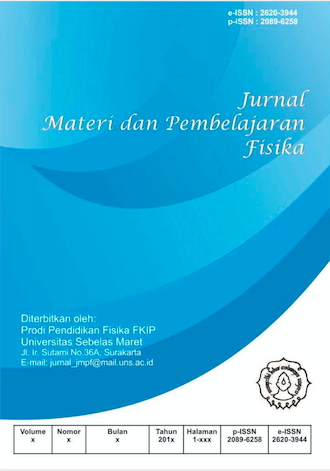 JMPF is Physics Education Journal of Sebelas Maret University since 2010.
The number ISSN (Print) is 2089-6158 and ISSN (online) 2620-3944.
The Scopes and Focuses of this Journal are
(1) Physics Learning and Education
(2) Physics Science
(3) Learning Technologies
(4) Assesment of Physics Education
Please register at this 
Link
 and continue to 
submit
Call For Paper: Call For Paper 2020

Publication of JMPF (Jurnal Materi dan Pembelajaran Fisika) Volume 10 Number 1 and 2
Posted: 2019-10-11
More...
Table of Contents
Articles
| | | |
| --- | --- | --- |
| | Hanifah Nur Khofiah | 1-10 |
| | Rina Ira Wati | 11-19 |
| | Adventia Putri Pradita, Rini Budiharti, Sri Budiawanti | 20-24 |
| | Aulia Octaviani | 25-32 |
| | Asri Herlianti | 33-39 |
| | Sekar Ayu Prawesthi, Nonoh Siti Aminah, Dwi Teguh Rahardjo | 40-46 |