Berisi jurnal jurnal yang diterbitkan oleh seluruh Civitas di lingkungan Universitas Sebelas Maret.
A B C D E F G H I J K L M N O P Q R S T U V W X Y Z All
AGROSAINS
Agrosains is an agriculture journal with published twice a year. This journal publishes articles relating to agriculture such as agronomy, plant breeding, plant protection and plant biotechnology.
View Journal | Current Issue | Register
Agrotechnology Research Journal
Agrotechnology Research Journal is a name change from the Journal of Agronomy Research. This journal is published twice a year by Study Program of Agrotechnology, Faculty of Agriculture, Sebelas Maret University. This journal publishes regularly in June and December. This journal receives research articles, reviews and important ideas in the field of agriculture consisting of Agronomy, Plant Physiology, Plant Breeding, Soil Science and Plant Pests and Diseases.
View Journal | Current Issue | Register
ALCHEMY Jurnal Penelitian Kimia
ALCHEMY Jurnal Penelitian Kimia is a chemistry journal published by Sebelas Maret University, Surakarta. ALCHEMY Jurnal Penelitian Kimia publishes original research articles or review articles in organic chemistry, inorganic chemistry, analytical chemistry, physical chemistry, biochemistry, and environmental chemistry. ALCHEMY Jurnal Penelitian Kimia is ACCREDITED BY KEMENRISTEKDIKTI base on SK No. 60/E/KPT/2016
View Journal | Current Issue | Register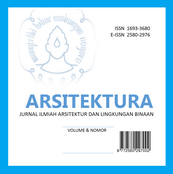 ARSITEKTURA
Arsitektura, merupakan jurnal ilmiah arsitektur dan lingkungan binaan yang dikelola oleh Program Studi Arsitektur Fakultas Teknik UNS Surakarta mulai tahun 2003 dan tahun 2013 mulai online melalui Fakultas Teknik. Tahun 2017 Arsitektura pindah laman ke http://jurnal.uns.ac.id/Arsitektura yang difasilitasi oleh Universitas Sebelas Maret, Surakarta, Indonesia dengan pembaharuan terbitan Arsitektura: Jurnal Ilmiah Arsitektur dan Lingkungan Binaan dengan ijin online 2580-2976. Jurnal berisi tulisan tentang hasil penelitian, gagasan konsepsual, resensi buku, obituari tokoh, dan dunia pendidikan, yang kesemuanya berada dalam lingkup bidang disiplin arsitektur. Jurnal terbit dua kali dalam satu tahun, yaitu pada bulan April dan Oktober. Redaksi menerima tulisan ilmiah dalam bidang-bidang yang relevan dengan arsitektur yang belum pernah diterbitkan, sesuai dengan ketentuan dan syarat. Naskah yang masuk akan dievaluasi oleh Penyunting Ahli.
View Journal | Current Issue | Register
1 - 4 of 4 Items