---
| | |
| --- | --- |
| Journal title | International Journal of Pedagogy and Teacher Education |
| Initials | IJPTE |
| Frequency | Two issues per year (April and October) |
| DOI | Prefix 10.20961 |
| Online ISSN | 2549-8525 |
| Print ISSN | 2597-7792 |
| Editor-in-chief | Prof Gunarhadi |
| Managing Editor | Cucuk Budiyanto |
| Publisher | Faculty of Teacher Training and Education, Universitas Sebelas Maret, Surakarta Indonesia |
---
IJPTE publishes original research and review articles, including field research pertinent to the method and practice of teaching, especially as an academic subject or theoretical concept within the context of pre-service or in-service teacher development.
Papers that address the connections between reflection, knowledge, and practice, critical analyses of particular programs, development initiatives, technology, assessment, and policy matters, as these topics relate to the main focuses of the journal, are welcome.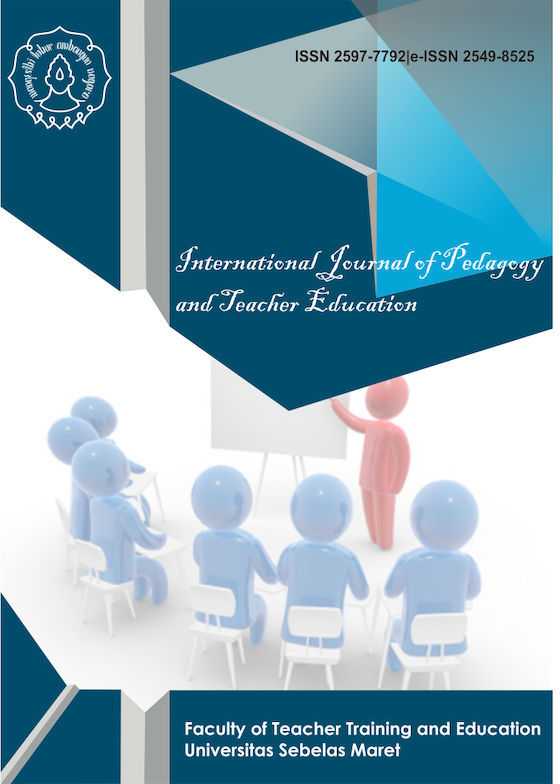 Announcements
Publon Partnership

IJPTE has been set up for a Publon partnership. A Publons integration lets reviewers effortlessly track and verify every review they perform for IJPTE, without infringing on journal policies. Publon will help reviewers get recognised for their work for IJPTE, by adding reviews performed for IJPTE to a public profile (with the privacy settings you choose) and have them verified to be used in promotion and funding applications.
Posted: 2021-11-07
More...

IJPTE's Impact Factor for 2019 and 2020

IJPTE's Journal Impact Factor has been calculated for 2019 and 2020. 

 

Posted: 2021-08-08
More...

New Manuscript Template

short description

Posted: 2021-04-30
More...
Vol 6, No 1 (2022): International Journal of Pedagogy and Teacher Education
Table of Contents
Research Paper
Science Education