---
| | |
| --- | --- |
| Journal title | DEDIKASI: Community Service Reports |
| Initials | DEDIKASI |
| Frequency | Twice a year on January and July |
| DOI | Prefix 10.20961 |
| Online ISSN | 2715-5706 |
| Print ISSN | -- |
| Editor-in-chief | Prof. Nurdin |
| Publisher | Faculty of Teacher Training and Education, Universitas Sebelas Maret, Surakarta |
---
DEDIKASI: Community Service Reports publishes reports on the research dissemination and community services. It is our interest to elaborate the method applied during the research dissemination and the implications of the implementation to the process, understanding, and community social economic development.  It is expected that the journal could become a publication outlet for meaningful information about community services activities especially to the readers who want to conduct, improve, or create novel community service activities. This journal is published by the Faculty of Teacher Training and Education, Universitas Sebelas Maret, Surakarta Indonesia.The journal will be published twice in a year in January and July. Manuscript submission is all year round.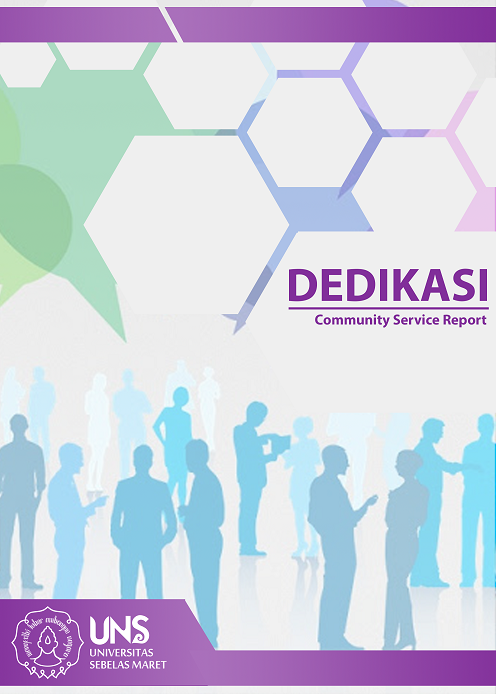 Dedikasi: Community Service Reports by UNS is licensed under CC BY 4.0
Announcements
New Manuscript Template

Manuscript template for 2023 Issues
Posted: 2022-10-27
More...

Vol 4 Issue 2 2022 has been published.

Publication announcement
Posted: 2022-10-13
More...

DEDIKASI: Community Service Report Teakreditasi SINTA 4

Pengumuman terakreditasi
Posted: 2022-06-07
More...
Vol 6, No 1 (2024): In Press