Prosiding PRASASTI merupakan Prosiding dari Seminar PRASASTI yang diselenggarakan oleh Program Studi S3 Linguistik, Program Pascasarjana Universitas Sebelas Maret.
Prosiding Prasasti terindeks:
PRASASTI I dengan tema "Pragmatik, Sastra, dan Linguistik" yang diselenggarakan tahun 2014, PRASASTI II dengan tema "Kajian Pragmatik dalam Berbagai Bidang" yang diselenggarakan tanggal 13-14 November 2015.
2016: PRASASTI III 2016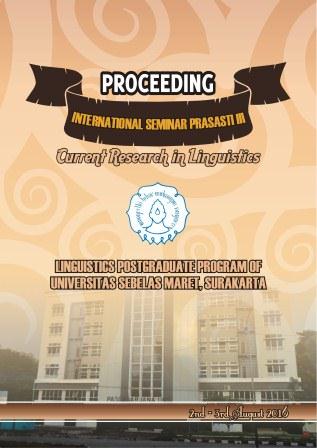 PROCEEDINGS OF THE INTERNATIONAL SEMINAR PRASASTI III.
2 - 3 August 2016.
"Current Research in Linguistics"
ISBN: 978-602-73498-1-0