The site contains all peer-reviewed Journals published by Universitas Sebelas Maret.
A B C D E F G H I J K L M N O P Q R S T U V W X Y Z All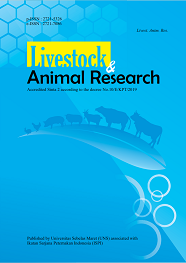 Livestock and Animal Research
p-ISSN 2721-5326 | e-ISSN 2721-7086
Livestock and Animal Research (Livest. Anim. Res.) publishes original research article in the field of livestock and other animal research. This journal previously titled as Sains Peternakan: Jurnal Penelitian Ilmu Peternakan and changed into Livestock and Animal Research in order to broaden the distribution and increase the visibility of the journal. This journal is published three times a year: March, July, and November by Sebelas Maret University associated with Perkumpulan Insinyur dan Sarjana Peternakan Indonesia (ISPI). The first edition with new journal-title is published in July 2020 (Vol. 18 No. 2) while previous editions remain the same as the previous journal that can be accessed through website: https://jurnal.uns.ac.id/Sains-Peternakan.
Livestock and Animal Research has been accredited and categorized as Sinta 2 by Directorate General of Strengthening Research and Development – Ministry of Research, Technology and Higher Education, Republic of Indonesia in 2019 (No. 10/E/KPT/2019).
In addition, this journal has been indexed by Crossref, Google Scholar, Mendeley, Garuda (Garda Rujukan Digital), i-Focus, i-Journals, and Udledge.s
The interest of Livestock and Animal Research covering: 1) Animal Production System; 2) Animal Breeding and Genetics; 3) Animal Physiology and Reproduction; 4) Animal Nutrition and Feeding Technology; 5) Technology of Animal Product; 6) Animal Biotechnology; 7) Animal Behaviour and Welfare; 9) Socio-Economics in the field of Animal Research, and 10) Animal health. The objects of the research can be livestock, laboratory, exotic, and/or wild animals. This journal uses double blind review where all the review processes using anonymous system so that both reviewer and author identities are not revealed during the process.