The site contains all peer-reviewed Journals published by Universitas Sebelas Maret.
A B C D E F G H I J K L M N O P Q R S T U V W X Y Z All
NEXUS
View Journal | Current Issue | Register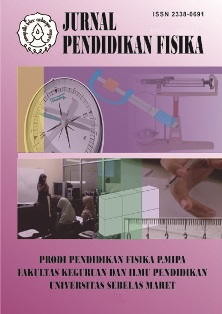 Jurnal Pendidikan Fisika (Online)
Jurnal Pendidikan Fisika (ISSN 2338-0691) merupakan jurnal yang dikelola dan diterbitkan secara online oleh Program Studi Pendidikan Fisika, Jurusan PMIPA, Fakultas Keguruan dan Ilmu Pendidikan, Universitas Sebelas Maret Surakarta. Jurnal ini terbit 3 kali dalam satu tahun. Jurnal ini berisi artikel - artikel ilmiah dari hasil penelitian mahasiswa Pendidikan Fisika.
Silahkan daftarkan diri
Silahkan daftarkan dirimu disini dan unggah jurnalmu disini
Template Jurnal Pendidikan Fisika (Online) dapat diunduh disini
View Journal | Current Issue | Register
Jurnal Materi dan Pembelajaran Fisika
View Journal | Current Issue | Register
English Education
View Journal | Current Issue | Register
INKUIRI: Jurnal Pendidikan IPA
P-ISSN: 2252-7893 | E-ISSN: 2615-7489
---
INKUIRI Jurnal Pendidikan IPAis a peer-reviewed open-access journal. The journal disseminates papers written based on the results of study and review of literature in the sphere of natural sciences education, biology education, physics education, and chemistry education in primary, secondary, and higher education. INKUIRI Jurnal Pendidikan IPA published three times a year, in February, June, and October until 2018. Since 2019, INKUIRI has been published twice a year, in April and October. Submitted papers must be written in English or Bahasa Indonesia for initial review stage by editors and further review process by minimum two international reviewers.
Finally, accepted and published papers will be freely accessed in this website and the following abstracting & indexing databases:
1. Google Scholar
2. Indonesian Scientific Journal Database 
3. Indonesia Publication Index (IPI)
4. Bielefeld Academic Search Engine (BASE)
5. Academia
6. ResearchGate
7. Road Directory
8. Indonesia OneSearch (IOS)
View Journal | Current Issue | Register
ELTINDO
View Journal | Current Issue | Register
Jurnal Analisa Sosiologi
Jurnal Analisa Sosiologi (JAS) mulai tahun 2022 diterbitkan per 3 bulanan pada bulan Januari, April, Juli, dan Oktober oleh Program Studi Magister Sosiologi Fakultas Ilmu Sosial dan Politik Universitas Sebelas Maret Surakarta dengan ISSN : 2338 - 7572 (Print) dan ISSN: 2615-0778 (Online). JAS berdasarkan Keputusan Menteri Riset dan Teknologi/Kepala Badan Riset dan Inovasi Nasional Republik Indonesia, Nomor: 200/M/KPT/2020, tanggal 23 Desember 2020 tentang peringkat akreditasi jurnal ilmiah periode III tahun 2020, telah terakreditasi Peringkat Sinta 3 yang berlaku 5 Tahun, yaitu mulai Volume 8 Nomor 1 tahun 2019 sampai Volume 12 Nomor 4 Tahun 2023. JAS memfokuskan diri pada hasil penelitian terkait isu-isu sosial-kontemporer di Indonesia, khususnya yang berkenaan dengan perkembangan masyarakat dari berbagai aspek. Selain itu, JAS juga menerima artikel yang bersumber pada telaah pustaka terkait dengan upaya pengembangan teori-teori sosiologi. Informasi mengenai JAS juga bisa diperoleh melalui media sosial.

View Journal | Current Issue | Register
SEPA: Jurnal Sosial Ekonomi Pertanian dan Agribisnis
SEPA: Jurnal Sosial Ekonomi Pertanian dan Agribisnis is published by Agribusiness Program, Faculty of Agriculture, Universitas Sebelas Maret (UNS) Indonesia in cooperation with Association of Agricultural Economy (PERHEPI). We welcome manuscripts on agricultural socio-economic studies, agribusiness management, agricultural development and policies, agricultural business, agricultural feasibility studies, agricultural consumers and producers, agricultural market, agroindustry and community development.
View Journal | Current Issue | Register
Southeast Asian Journal of Social and Political Issues
View Journal | Current Issue | Register
Jurnal Agrotek
Jurnal Agrotek adalah jurnal ilmiah berkala yang diterbitkan oleh Program Studi Agroteknologi Fakultas Pertanian UNS. Jurnal Agrotek menerima artikel berupa hasil penelitian, telaah atau tinjauan literature, penelitian singkat atau short communication yang terkait dengan bidang agronomi, hortikultura, proteksi tanaman, pemuliaan tanaman dan teknologi benih
View Journal | Current Issue | Register
61 - 70 of 124 Items