The site contains all peer-reviewed Journals published by Universitas Sebelas Maret.
A B C D E F G H I J K L M N O P Q R S T U V W X Y Z All
DEDIKASI: Community Service Reports
View Journal | Current Issue | Register
Mekanika: Majalah Ilmiah Mekanika
"Mekanika: Majalah Ilmiah Mekanika" is an open-access journal published by Mechanical Engineering Study Program, Faculty of Engineering, Universitas Sebelas Maret. Mekanika invites scholars, researchers and practioners who have interest in mechanical engineering to publish their articles and also provides forums for them to share their works and knowledge. Mekanika focuses on the area of materials engineering and science, design, energy, manufacturing and construction but is not limited to. Both English and Bahasa are accepted in this journal.
Mekanika has two issues every year (March and September); each issue consists of at least 5 articles, and we aim to publish more frequently in the future.
DOI: 10.20961/mekanika
View Journal | Current Issue | Register
Verstek
Jurnal Verstek is a peer-reviewed journal published by Procedural Law Department, Faculty of Law, Universitas Sebelas Maret three times a year in April, August, and December. This Journal aims primarily to facilitate undergraduate students paper  over current developments on procedural law issues in Indonesia as well as to publish innovative legal researches concerning Indonesian procedural laws and legal system. It provides immediate open access to its content on the principle that making research freely available to public support a greater global exchange of knowledge.
The scope of the articles published in this journal deal with a broad range of topics in the fields of Procedural Law, included but not limited to
legal construction of procedural law
critical construction of procedural law in practice
trends and changes in procedural law
the technical challenges faced in proedural law
The Editorial Board invites the submission of essays, topical article, comments, critical reviews, which will be evaluated by an independent committee of referees on the basis of their quality of scholarship, originality, and contribution to reshaping legal views and perspectives.
View Journal | Current Issue | Register
BELLI AC PACIS
Modern international law in the last few decades has experienced very rapid development, this is characterized by the emerge of the State in a modern sense, as well as a legal system that regulates relations between countries and international legal entities with each other. Relations between countries are no longer limited by absolute sovereignty, for example in the case of war crimes, the international community could sue countries or even individuals to be responsible for these actions based on universal principles. Recently, State practices is shifting from the hard law legal system to soft law which can be an alternative solution in breaking the deadlock when international political compromises are difficult to realize. Various international law development shows that there is a need for the international community to form a legal system that is acceptable to all parties, especially the State as a subject of international law par excellence. Therefore, the Belli ac Pacis Journal presents the multifarious developments in contemporary international law as a study of current State practices. The Belli ac Pacis Journal encompasses Public International Law, International Law of the Sea, International Humanitarian Law, International Environmental Law, International Criminal Law, International Organizational Law, International Dispute Settlement Law, Diplomatic Law, Air and Space Law, International Trade Organization Law, ASEAN Law, and International Economic Law.
View Journal | Current Issue | Register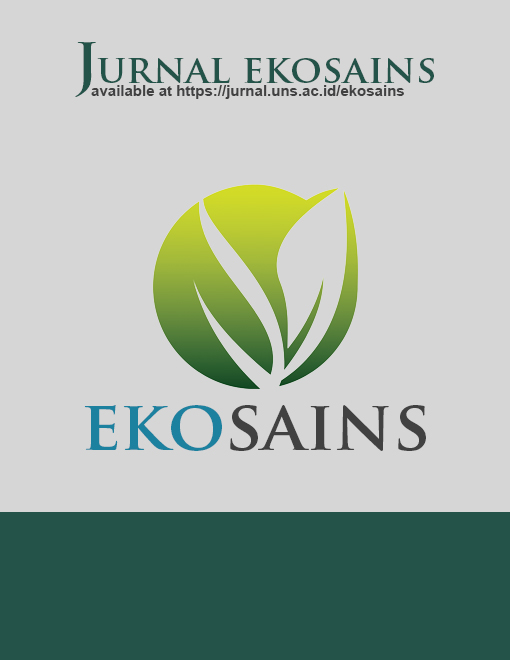 Ekosains
Jurnal Ekosains
View Journal | Current Issue | Register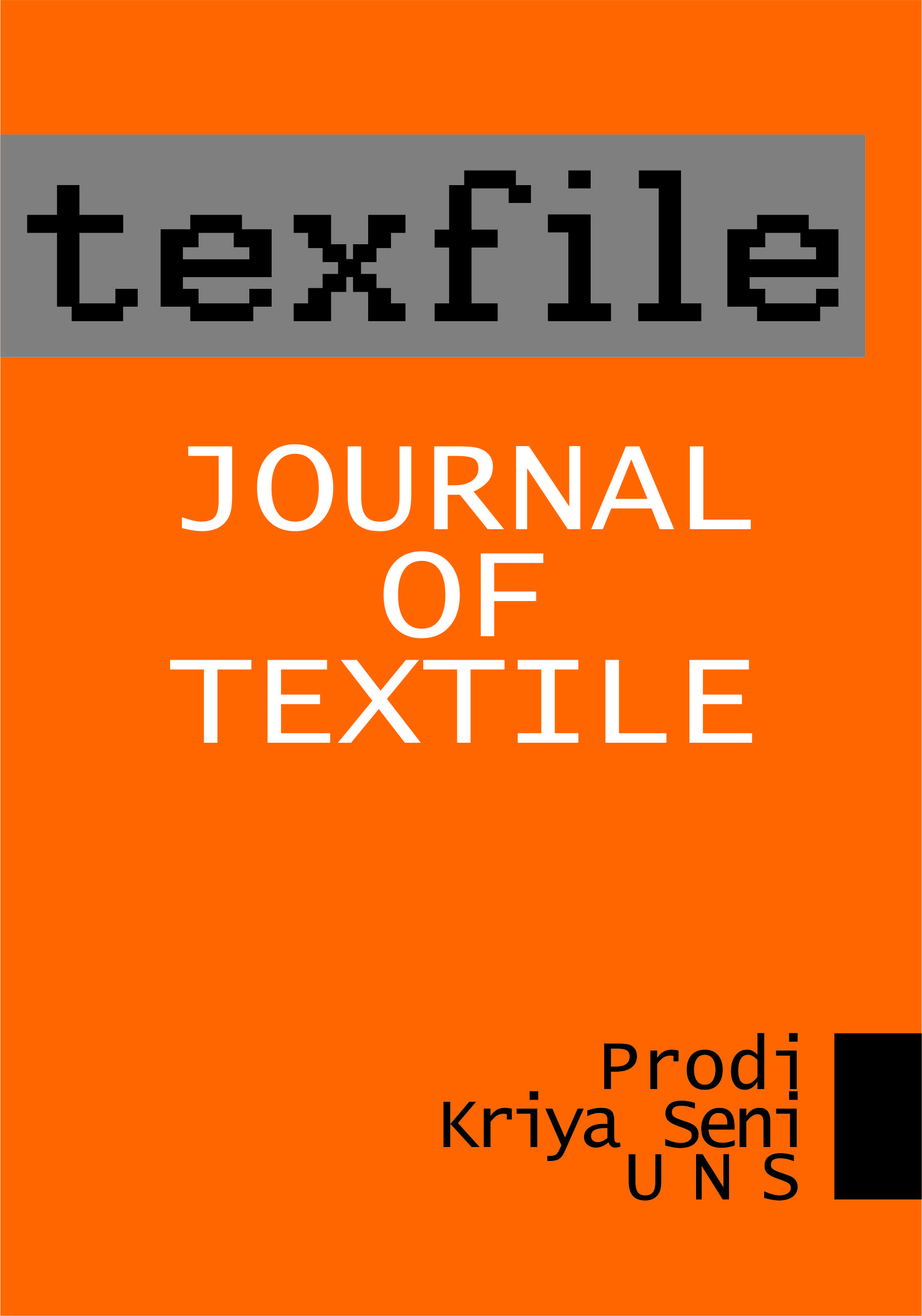 TEXFILE Jurnal Ilmiah Tekstil
TEXFILE Journal of Textile memfokuskan pada tulisan ilmiah yang berkaitan dengan tekstil pada wilayah kriya, desain, seni, maupun budaya. Artikel berupa hasil penelitian, proyek inovasi, aplikasi teori, atau gagasan konseptual.
View Journal | Current Issue | Register
Indonesian Journal of Applied Statistics
Indonesian Journal of Applied Statistics (IJAS) is a journal published by Study Program of Statistics, Universitas Sebelas Maret, Surakarta, Indonesia. This journal is published twice every year, in May and November. The editors receive scientific papers on the results of research, scientific studies, and problem solving research using statistical method. Received papers will be reviewed to assess the substance of the material feasibility and technical writing.
Indonesian Journal of Applied Statistics (IJAS) is included in Google Scholar, Crossref, Garuda, and Mendeley database. 
View Journal | Current Issue | Register
Social, Humanities, and Educational Studies (SHEs): Conference Series
Social, Humanities, and Educational Studies (SHEs): Conference Series is a peer-reviewed interdisciplinary journal with broad coverage, consolidate basic and applied research activities by publishing the proceedings of the conference in all areas of the social sciences, humanities and education.
View Journal | Current Issue | Register
Teknodika
Teknodika (p-ISSN: 1693-9107 & e-ISSN: 2656-6621) is peer-reviewed journal of educational technology research which publishes reviews, analysis, and empirical research on designing, developing, managing, utilizing and evaluating educational Technology to facilitating learning in formal and informal educational settings. 
Teknodika is published by Master Program of Educational Technology Faculty of Teacher Training and Education, Universitas Sebelas Maret, Indonesia in collaboration with Asosiasi Program Studi Teknologi Pendidikan Indonesia (APS-TPI) & Ikatan Profesi Teknologi Pendidikan Indonesia (IPTPI) which publishes Twice a year on March and September. We call for international authors to contribute for priority, quick, and highly disseminated publication. Our journal is a member of crossreff by doi : 10.20961/teknodika, and has been indexed and abstracted in various indexing databases: Science and Technology Index (Sinta) | Google scholar | Garuda | Dimension | Index Copernicus | Crossref | ROAD | Moraref | Directory of Research Journals Indexing (DRJI) | Indonesia One Search (IOS) 
Focus & scope includes: Learning Media, Learning Sources, Distance Learning, E-learning, Online learning, and other relevant topics on educational technology.
View Journal | Current Issue | Register
Basastra: Jurnal Bahasa, Sastra, dan Pengajarannya
---
---
Basastra: Jurnal Bahasa, Sastra, dan Pengajarannya is published twice a year in April and October (ISSN 2302-6405) contains scientific articles on language, literature, and its relation to teaching, about linguistics and applied linguistics studies, about the literary studies, and about the literary teaching and learning. It has been published by the Department of Indonesian Language Education, Faculty of Language and Literature, Universitas Sebelas Maret Surakarta in cooperate with Asosiasi Dosen Bahasa dan Sastra Indonesia (ADOBSI). The articles are written in both Indonesian and foreign languages. Articles that include the analysis, study, and application of theory, research results, and discussion of the literature.
The manuscript submitted has not been published anywhere both printed or electronic. The author shall refer to the author guidelines before submitting the manuscript. The manuscript submitted will then be evaluated and edited in terms of format, terms used, and other applied styles.
Since volume 7 number 1 in 2019, Basastra: Jurnal Bahasa, Sastra, dan Pengajarannya migrate to the jurnal.uns.ac.id/basastra page, while the 2012 edition up to 2017 is published on the jurnal.fkip.uns.ac.id page. The published articles can be accessed and downloaded for free through the Sebelas Maret University Electronic Journal PortaI.
PEMBERITAHUAN
1. Keputusan artikel DITERIMA atau DITOLAK paling lama 2 bulan setelah penulis submit artikel
2. Untuk informasi lebih lanjut dapat menghubungi CP 0816-4272-262 (Dr. Sumarwati, M.Pd.)
3. Pedoman penulisan artikel ilmiah
KLIK DI SINI
4. Pedoman cara submit artikel ilmiah
KLIK DI SINI
5. Nomor Ponsel WAJIB dicantumkan di profil akun

View Journal | Current Issue | Register
11 - 20 of 112 Items